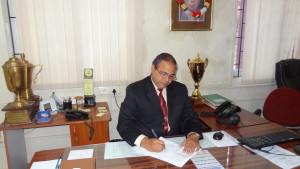 G.R. Kare College of Law, a flagship institution of the Vidya Vikas Mandal, welcomes students with a commitment to excel in legal education, into its portals. The College, which is affiliated to Goa University, offers the 5-year integrated B.A.LL.B., 3-year LL.B.(degree) and 2-year post-graduate LL.M. programmes.  It has been recognised by the University Grants Commission and the Bar Council of India.  A Research Centre has also been commenced recently where scholars register for doctoral studiesin the Ph.D. programme.
The College has as its motto, 'Excellence always in Legal Education' and has made a mark for itself withseveral students excelling in University examinations and securing gold medals and by contributing to society through its outreach programmes.  The College is happy with the placement of its alumni in all walks of life.  I am proud to mention that the only two lady Judges appointed in the Hon'ble High Court of Bombay who hail from the State of Goa are alumni of the College.  In recent times, legal education has proved to be an area of growing avenues and its reach has widened in leaps and bounds, shaping careers of all hues.
Kare College is managed by extremely able hands, with well-qualified and experienced faculty who devote their expertise in the teaching-learning process, developing professionalism with social commitment.  The College provides the best of infrastructure to its students and it offers a repertoire of activities, including different add-on programmes that enrich the experiences of students, making their journey, both professional and enjoyable.
The college assures that it will discharge its obligations to all its stake holders and continue with its mission to lead the way through innovative experiences and create legal professionals of very high standards.
Dr. Saba V. M. Da Silva
Principal