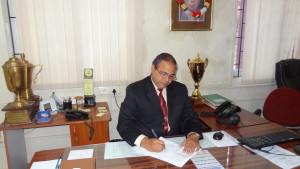 Govind Ramnath Kare College of Law offers the 5-year integrated double degree B.A.LL.B., 3-year LL.B. Degree, 2-year post-graduate LL.M. and Ph.D. programmes, besides other add-on diploma and certificate law programmes. The College is affiliated to the Goa University, recognised by the University Grants Commission and the Bar Council of India.
The College which has its motto, 'Excellence always in Legal Education' has made a mark for itself with several students excelling in University examinations and by contributing to society through its outreach programmes. The College is proud of its alumni who occupy positions of eminence and importance in the Judiciary, academics, bureaucracy and at the Bar in different parts of India and even overseas.
In recent times, Legal Education has proved to be an area of growing avenues and its reach has widened in leaps and bounds, which the College has facilitated by catering to diverse needs and associating with institutions of eminence and organizations of repute. The signing of MoUs with Asian School of Cyber Laws, Pune; Office of the District Collector, South Goa; University of Lisbon, Portugal and the Lusophone Society of Goa reflects the readiness of the College to provide insights into areas beyond the curriculum, extension activities through Legal Aid, teacher and student exchange programmes, knowledge sharing and socio-cultural exchange with foreign countries, including in cultural and linguistic fields.
One of the major strengths of G. R. Kare College of Law is its well-qualified and experienced faculty, that devotes its expertise in the teaching-learning process and enables the development of professionalism with social commitment. The College provides the best of infrastructure to its students and offers a repertoire of activities, making their tenure at the College an enriching experience.
The college assures that it will discharge its obligations to all its stake holders and continue with its mission to lead the way through innovative experiences and create legal professionals of very high standards.
Dr. Saba V. M. Da Silva
Principal