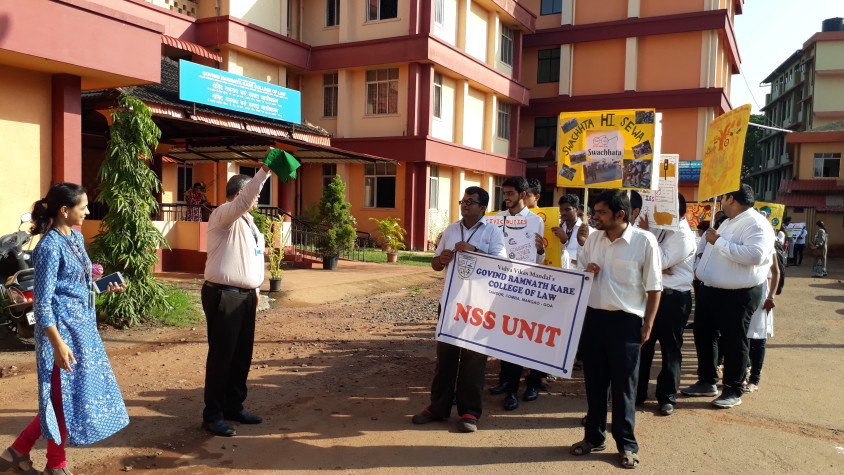 N.S.S. UNIT OF G.R. KARE COLLEGE OF LAW, MARGAO-GOA organised peaceful awareness on 23/09/2017 from 8:30 am to 10:30 am a rally on the NSS theme of the year "HEALTHY YOUTH FOR A HEALTHY SOCIETY" in commemoration of the NSS Day.
Volunteers and students at a poster/slogan competition organised by the NSS Unit on the theme 'Civic Duties'.
Poster, Placards were made like 'Swachhta Hi Seva', 'Save the Girl Child', 'Follow Traffic Rules', 'Waste Disposal and Segregation', 'Spread Greenery'.
200 participants were at the rally, divided into 3 Sections : Each Section Representing a Cause.
1st Section spread the message 'Swachhta'.  They shouted slogans of 'Green Goa, Clean Goa', 'Garbage Disposal Reuse, Refuse, Recycle',' Importance of handwash' etc.
2nd Section of participants created/spread the message on 'Save the Girl Child' slogans against sex selection/determination, illegal abortion, female foeticide were shouted.
3rd Section of participants were committed to the cause of Road Safety.  'Follow Traffic Rules', 'Wear Helmets, Avoid rash' and negligent driving/riding, 'speed thrills but kills', were the slogans shouted.
The rally was flagged off by the Principal, Dr. Saba V.M.Da Silva from the college and thereafter proceed to the Margao town and back.
Faculty members, participants, volunteers & students expressed satisfaction over the success of the rally and pledged to be committed towards the cause they represented.