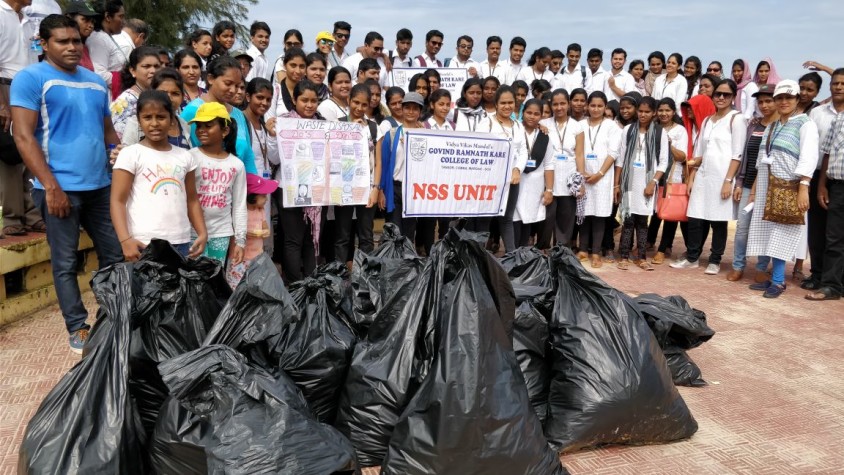 The NSS unit of G.R. Kare College of Law, Tansor-Comba, Margao under the guidance of NSS faculty Committee undertook beach cleanliness activity at Benaulim on Saturday, 16th September 2017 from 8:00 am to 10:45 am.
The activity was undertaken in association with Cana Benaulim village Panchayat lead by its Panch Ms Royla Fernandes and others.  The volunteers of the NSS unit along with faculty members, Ms. Sonali Naik, NSS Programme Officer, Ms. Ruby Luis and Ms. Sonia Shirodkar assembled at the starting point , Maria Hall at 8.15 a.m.  and walked  the stretch to the Benaulim beach collecting trash and garbage along roadside.
Pamphlets and leaflets with messages on importance of cleanliness were distributed and posters on garbage disposal and segregation were also displayed by student volunteers    
Around 66 student volunteers participated. They were divided into two groups, one met at the starting point and collected garbage along the roadside leading to the beach which the other was engaged in the activity along the beach sides.
Garbage of all kind, i.e. plastic tins, polythene bags, bottles, thermocol paper, tetrapacks diapers glass etc. was found and collected in bags and sent to garbage disposal units.  The faculty, Panchayat members and students expressed their satisfaction at this endeavour and pledged to maintain cleanliness by adopting healthy and environmental friendly practices.