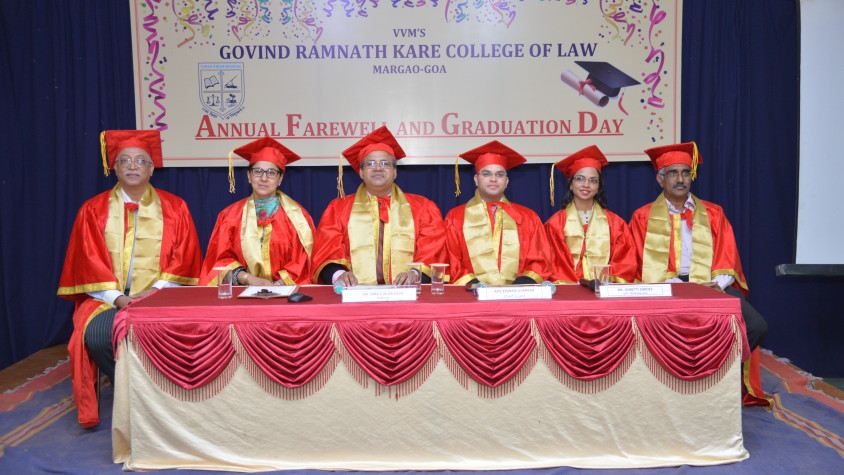 Curtains came down for the final year batches of the LL.B. Degree and B.A.LL.B. programmes for the academic year 2017-18 at the G.R. Kare College of Law, Margao with a memorable and unique Annual Farewell and Graduation Day ceremony held on Saturday, 31st March,  2018. The ceremony commenced with processions of students dressed in graduation gowns with impressive red and yellow scarfs to distinguish between the programmes, followed by the solemn procession of Faculty members in blue satin gowns and the Executive members dressed in royal red velvet gowns.
The proceedings commenced with a welcome address by Principal Dr. Saba Da ilva, wherein he show-cased the extra-ordinary achievements of the institution which has mapped itself nationally and got recognition internationally. This was followed by the address of Mr. Nitin Kunkolienkar, 1st  Vice-President of Vidya Vikas Madndal and Chairman of the Governing Council of the College, who complimented the stakeholders who have toiled thorough the years taking the institution to greater heights and stressed on the quest for excellence. The Chief Guest for the ceremony was Mr. Eeshan Usapkar, Advocate Bombay High Court at Goa, who gave an inspiring speech to the  students on how to rise and shine in legal profession.
The solemn ceremony concluded with a vote of thanks proposed by Ms. Goretti Simoes, Asst. Prof and HoD, followed by group photographs. The procession of Executive and faculty members left and the students dispersed. The function was attended by other Governing Council members and select invitees.  Outgoing students were presented with memorabilia.